This is the week that many of my friends and my dearest beau have all returned back to school. It feels weird but also interesting to not have to worry about seminars and taking notes. I had to listen to a lecture for one of my boyfriend's Folk Psychology courses and regardless of the topic, the classes are all the same. Do 3-4 readings and write a paper about your discovery. I have to say that thus far, I do not miss it. 
The only course I ever liked was Reading Popular Culture. I had a teacher who was extremely interested in vaginoplasties and the Star Trek slash. I think I got a 90% in that class, because I found that I knew more about popular culture than I know about anything else. I hope that didn't make me sound dumb, because clearly it just makes me awesome. I know that Han Solo shot first ok!!!??
Anyway this post was not necessarily about that feeling of September moving on without me - it's more September moving in a different direction than it ever has before.
This past weekend was the last great free weekend I'll have with Alex (previously stated as my delectable arm piece), so we made the most of it by watching crap movies and going to the mall. We made a stop at Scarborough Town Center, and visited the new HOT TOPIC.
Hot Topic makes me nostalgic in a way that even September can't touch. I found myself surrounded by paraphernalia I'd have killed to get my hands on in grade 11 but could no longer wear with a straight face. 
eg: The GIR hat. A toque that made the top half of your head look like the robot's puppy costume from Invader Zim. I have tried about five links for this beanie but you'll have to just google it yourselves but it's basically this guy but in hat form!!!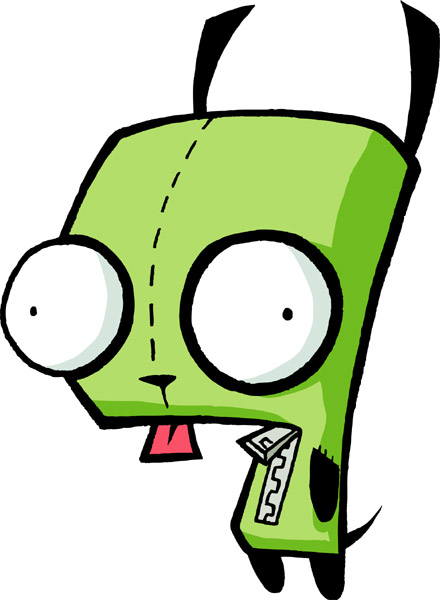 Sadly the more I think about it the more I want that gat-dang hat...
However I did find a suitable necklace that I could get away with - a necklace avec dinosaur! (please excuse my stupid face)
http://yfrog.com/mwy9hej
I also got these nifty granny sunglasses from Goodwill! They were $2 which is the most I think I've ever paid for a pair of sunglasses. 
I got a pair of faux-leather lace-up boots from Globo. I feel like I'm going to go on a fox hunt when I wear them because they have a bit of a heel!
And then there were these! 
Ten dollars at Value Village! I owned the second-hand retailers this week!
Another good thing was going to Pacific Mall with my friend Lindsay.  We found several rhinestoned beauties, and she got a faux-snow leopard vest with hood that goes down to her legs. Everything there is too over-priced for my liking. I think the only thing I ever purchased there was a hot-pink fox tail.
I went on Design*Sponge the other day and saw they had posted works by Katie C Turner. I fell in love with her because her portrayal of cute boys was just so magnificent I couldn't look away!
Example: 
See what I mean ? Totally. Adorable.
And today, I went to Queen Street West with my dear shopping companion Lindsay, and I finally found my dream leather jacket! 
(photo not of the exact one but a close replica)
I have been looking for one that fit me properly (and was affordable.. mainly the latter) for years and years! We went into Bang On and found they were on sale for $90! Dear bloggers... JACKPOT.
I could not wear it home unfortunately because it was much too hot out.. dang it.
I also picked up one of these bad-boys... 
I went in and I couldn't find it immediately and began to panic. I'd been considering getting one for some time but I felt that if I were to obtain one I would no longer require a boyfriend or friends or a job. I would just sit at home massaging my brain. Unfortunately this may be the case.
In closing dear readers, (anybody?) I am a shopaholic. And guess what? I am going to the mall tomorrow!
Wish me luck and a lack of debt when I retire!